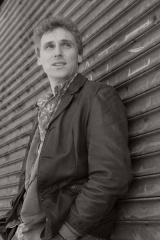 Steve Chizmadia has been singing and playing guitar since he was knee high to a Gibson J-200, with a dream of getting somewhere and no tangible way of getting there. He played in high school bands. He practiced hours and hours each day and tried to write songs, failing consistently.
He took a left turn at acting, attending NYU and studying with Robert Perillo and Stella Adler among others. He performed Off Off Off Off Broadway, in Houston Texas, in Myrtle Beach South Carolina, all the while carrying a guitar and note pad, scribbling lyrics, scratching them out, scribbling new ones. He wrote a series of plays, two of which were performed in Rep. At Soho's Ohio Theatre in the mid-nineties, while another had a reading at The Ensemble Studio theatre.
In 1998, after a twenty year gestation period, the songs started to come. 2003 found Steve a Kerrville New Folk finalist. In 2005 his song "This Old Town" received honorable mention from the Woody Guthrie Folk Festival. He began recording his debut C.D. with friend, mentor and producer Fred Gillen, Jr. in early 2006, which was completed in early 2007 and released in September of that year to modest acclaim and good airplay on many folk radio programs. He has showcased at Northeast Regional Folk Alliance in New York and looks forward to getting out and seeing America.ree time.
---

Page put together (with info & pics from Bob Gramann ) by Ernest Ackermann.
Send rants/rave to above mentioned Ackermann
Last Time I changed anything on this page:
---
| | | | |
| --- | --- | --- | --- |
| You can help support this site by buying books, CDs, and other items after clicking on any of these links. | | | |
Feedback on this Web site