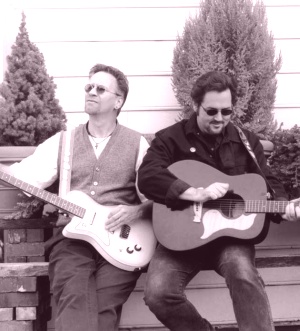 When Craig Evans and Brad Tucker started singing together in the early 1980's, neither could have guessed how long that partnership would last. With the new release of Just One Night, their 4th album as The Taters, it's obvious to listeners that their music is still getting stronger all the time. And now those new to the band can get a glimpse of what goes on during a live show – the interplay and harmonies, and just the wide range of song styles that make up their musical identity.
A lot has been written over the last 10 years about the influences of the band, and comparisons have been made to Roy Orbison, The Everly Brothers, The Mavericks, Nick Lowe and others. "We decided it was time to do a live album this time out", said Craig in a recent interview, "since that's where we meet most of our listeners, and vice versa. It gave us a chance to do some covers that are regular requests at our shows, and to kind of pay tribute to some of the influences that have guided us for so long. We're also using the album as a chance to re-work some of the tunes from our early albums. The cool thing was how well all of it came together in a single show!"
Just One Night was recorded in Ashland, VA, and includes Craig & Brad along with a host of side Taters, including Diana Carr (pedal steel) , Stu Grimes (drums), Jim Wark (guitar), Ned Henson (guitar), and Alan MacEwen & Chris Watling from The Grandsons on horns. Writing in Billboard magazine, the internationally published "bible" of the music industry, critic Gordon Ely described the Taters as "determinedly-and gleefully-forging a path with no limits or end in sight. This is music for which you've been waiting a long, long time... Without a trace of self-consciousness or pretension, the Taters draw up a formula that can rightly be claimed as their own".
---

Page put together (with info & pics from Bob Gramann ) by Ernest Ackermann.
Send rants/rave to above mentioned Ackermann
Last Time I changed anything on this page:
---
| | | | |
| --- | --- | --- | --- |
| You can help support this site by buying books, CDs, and other items after clicking on any of these links. | | | |
Feedback on this Web site