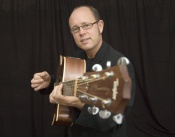 Bob Sima is the lead singer/songwriter for the successful acoustic power trio STEREOPOOL from the Annapolis, MD area. As a locally grown talent, Stereopool has made a name for themselves in the local and regional scene for their brand of energetic, evocative acoustic power folk music. They shared the stage with NRBQ, Eddie from Ohio, Ari Hest and many local legends. After landing a deal with a UK Based distributor (Smart Choice Music), they were selected for their 10,000 unit compilation that featured a track from Lyle Lovett and was featured on the cover of Maverick Magazine.
While performing many of the Stereopool shows as a solo effort, Bob began to feel the desire to explore his diverse songwriting and create a solo record. In late 2006, Bob released his first solo release entitled Pour It On. It was produced by David Weber (Krista Detor, Carrie Newcomer) and is an amazing collection of songs captured "in the moment" with a very live feel. It features some amazing players including Krista Detor, who's vocal and piano work is tightly woven into the spirit of the record. Players include Jason Wilbur (John Prine, Todd Snider, Iris Dement), Slats Klug, Brandt Smith, Jamey Reed and Jack Helmsley....truly the best of the best in the Bloomington music scene. The songs range from quiet lullabies, sultry duets, to poppy acoustic toe tappers and even a full out folk/gospel epic. Most songs were spontaneously combusted in under 10 minutes and were immaculately captured by David Weber in what is truly an exciting new release for Bob. So far, the CD has been hailed as CD OF THE YEAR by the Westside Cafe, an upscale acoustic venue in Frederick, MD and has landed on many best of lists for 2006.
Bob has been featured and is receiving airplay on Z104 (DC), WRNR ( Annapolis, MD), WTMD ( Baltimore, MD), WRYR ( Churchton, MD), and the song "Amazed By You" has landed him in the top 1% of all time in the Acoustic Genre at GARAGEBAND.COM. He has also reached #2 ALL-Time in Male Vocals (Acoustic). His music has won awards from Songwriteruniverse.com, has been webcasted, podcasted and beamed through satellite radio waves.
Bob has played all of the top venues in the mid Atlantic including Rams Head, World Cafe Live, Fletchers, The National Folk Alliance Conference and the Dewey Beach Music Conference.
---

Page put together (with info & pics from Bob Gramann ) by Ernest Ackermann.
Send rants/rave to above mentioned Ackermann
Last Time I changed anything on this page:
---
| | | | |
| --- | --- | --- | --- |
| You can help support this site by buying books, CDs, and other items after clicking on any of these links. | | | |
Feedback on this Web site