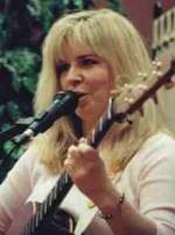 A fan favorite on the long-running, nationally syndicated Dr. Demento show, award-winning songwriter and Professional Smart Aleck Carla Ulbrich has been compared to the likes of Ray Stevens, Christine Lavin, Jerry Seinfeld, Chet Atkins and Jewel. As for the guy who compared Carla to Jewel... he had been drinking heavily.
Originally from South Carolina,Carla is currently based in South Florida (although she spends more time in the van than anywhere else). Carla brings a mix of humor, poignancy and nifty guitar playing to the stage. She began playing guitar at the age of nine, joined the school band at 12 and played a different instrument every year in band: flute, clarinet, piccolo, xylophone and sousaphone- a marching tuba. Once in a while an obliging friend lets her sit in on a song or two with her tuba during a concert.

Carla started playing the piano and writing songs in high school, eventually finding her way back to the guitar in college, where she earned a BA in Music (classical guitar). She made her singing debut at a pig pickin' on Spring Break in college and has so far released 2 CDs on her own label: Her Fabulous Debut (1999) and Professional Smart Aleck (2003).

Carla's live shows and CDs, have earned her amazing reviews and spiffy songwriting awards: Best Upbeat and Best Overall, 1999 South Florida Folk Fest's Song Competition; first place, 2000 and 1998 Mid-Atlantic Song Contest; second place, 1998 Chris Austin Songwriting Contest; second place: Gamble Rogers Folk Fest's Fingerpicking contest; grants from the SC Arts Commission and Jim Beam to help fund recordings, and endorsements from Takamine and John Pearse Strings.

Carla has taught guitar at several colleges, Hummingbird Music Camp, and the National Guitar Workshop. After a year of fighting back from a health crisis, she is back to touring relentlessly all over the country. She has appeared on numerous radio stations as well as USA's Up All Night, and has shared the bill with such luminaries as Cheryl Wheeler and Twiggy the Water Skiing Squirrel. Carla Ulbrich is a member of ASCAP and President of the Difficult Last Name Club, likes cheese, and collects bottlecaps.

Click on the cover to hear samples
---

Page put together (with info & pics from Bob Gramann ) by Ernest Ackermann.
Send rants/rave to above mentioned Ackermann
Last Time I changed anything on this page:
---
| | | | |
| --- | --- | --- | --- |
| You can help support this site by buying books, CDs, and other items after clicking on any of these links. | | | |
Feedback on this Web site