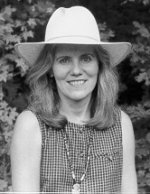 Karen Trump lives in Richmond, Virginia where she works as an educational specialist. She is a member of VOCAL (Virginia Organization of Composers and lyricists) and performs locally with the Fireside trio.
Karen picked up a guitar when she was 14 and her first performance was at the Cellar Door in Washington, D.C. at the age of 17. She began performing again three years ago after a long hiatus. Her favorite venues are coffee house settings or opportunities where people come together with the specific purpose of listening to music.
Karenís songs are best described as contemporary folk or innovative acoustic with a timeless appeal and a heartfelt message. She performs with a Lowden F32 cutaway and has entertained many with her Baby Taylor travel guitar off stage. She also plays a Fender acoustic bass. Her first CD, Minding My Business, was released in August 2000.
---

Page put together (with info & pics from Bob Gramann ) by Ernest Ackermann.
Send rants/rave to above mentioned Ackermann
Last Time I changed anything on this page:
---
| | | | |
| --- | --- | --- | --- |
| You can help support this site by buying books, CDs, and other items after clicking on any of these links. | | | |
Feedback on this Web site