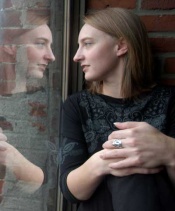 A nationally touring performer for the past four years, Boston-based singer/songwriter Teresa Storch is constantly moving. Her music has been described as a "bounding folk rock sound...mesmerizing vocal riffs" by Boston's Metronome Magazine and "Vega/Merchant-esque vocals...funky guitar work... fabulously catchy folk-genre'd tunes" by Boston Girl Guide. Her first release 'Muscle Memory' and live shows are gathering her national acclaim. She competed in the Susquehanna Music and Arts Festival and Flat Rock Music Festival songwriter competitions in 2005, was selected honorable mention in the Rocky Mountain Folks Festival 2003 Songwriter's Showcase Competition and was selected as part of the "Boston's Best Singer/Songwriters" Showcase for 2003.
Originally from Omaha, Nebraska, it wasn't until attending college in Colorado five minutes from the famed "Red Rocks Amphitheatre" (where she spent all her money then) that it struck her she wanted to write and perform her own music. Drawn to the folk music scene of Boston, she traversed the country in 1999 to settle in the Northeast. With an authentic desire to connect through music (at 13 she wrote of longing "to move people" through performing), "Moving" is a true description of what she brings to a stage. Writing to remind us (and herself) of what's real and really matters, her rich, engaging voice provides a satisfaction and a sense of home, plus a peek into the struggles of love, life and dreams. Combined with intense, percussive acoustic guitar, she accomplishes well what she set out to do at 13.
Her first CD "Muscle Memory" fuses her desire to move the listener with the rhythm section of Phil Antoniades (drums) and Jeff St. Pierre (bass), typically seen with Todd Thibaud and Barbara Kessler, creating a full sound most often compared to Jonatha Brooke or Natalie Merchant. Her second release "'Live' For Now" showcases the power of her live solo acoustic show. She's currently working on her third with Rob Ignazio at Sherwood Forest.
---

Page put together (with info & pics from Bob Gramann ) by Ernest Ackermann.
Send rants/rave to above mentioned Ackermann
Last Time I changed anything on this page:
---
| | | | |
| --- | --- | --- | --- |
| You can help support this site by buying books, CDs, and other items after clicking on any of these links. | | | |
Feedback on this Web site