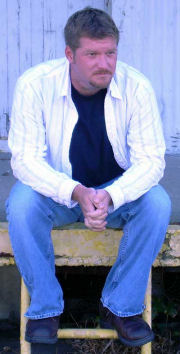 Virginia based singer/songwriter Mark Smilor crosses musical genres with country, rock, and acoustic folk. His lyrics have been described as very well crafted and sometimes brutally honest whether he is writing about himself or something else. A songwriter and multi-instrumentalist he has been playing and writing music for 18 years and works with other songwriters as a producer. Originally from Chicago he has called Virginia Beach home for a number of years and early on played in the local scene for a while. After deciding to become a solo artist he spent time working on the recording industry aspect of things formed a band and started writing.
The first record he recorded was the all acoustic "The Ugly Naked Truth". Initially never intended for release these were over glorified demo tracks that after some convincing from the band he decided to put out on Twarkey Records. Lyrically driven and under produced it afforded him the opportunity to play as a headliner through the mid-Atlantic region and opening up for several national acts. In 2006 he wrote the follow up release "Wanderlust" and recorded with the full band through the summer and was released on Twarkey Records in December. The first single "How Much I Lied" received national airplay and stayed in rotation for a few months as well as other tracks from the album. The album also drew good reviews from press and some radio. Supporting the album through the winter and spring of 2007 traveling the east coast playing for various audiences and doing radio has helped grow his fan base. The song "Eshelon" was also selected to be in the Discovery Channel series "A Haunting".
As a live performer he tells a story about the music personal songs about loneliness, heartbreak, drifters, and self examination with a dry sideways sense of humor. More info can be found at www.marksmilor.net or www.myspace.com/marksmilor.
---

Page put together (with info & pics from Bob Gramann ) by Ernest Ackermann.
Send rants/rave to above mentioned Ackermann
Last Time I changed anything on this page:
---
| | | | |
| --- | --- | --- | --- |
| You can help support this site by buying books, CDs, and other items after clicking on any of these links. | | | |
Feedback on this Web site