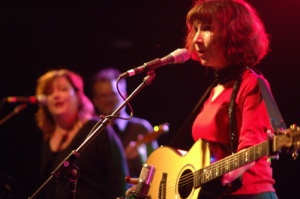 Sally Spring, a folk-rock legend in the New York and Los Angeles music scenes during the 70s and early 80s, has just finished "Mockingbird," her fourth recording, that features not only her inimitable voice and evocative, powerful songwriting but also contributions from Gene Parsons (the Byrds),Tift Merritt, Marshall Crenshaw, Caitlin Cary (Tres Chicas,Whiskeytown), Fred Smith (Television), and Thad Cockrell.

Sally's new CD was produced by Ted Lyons with Chris Stamey and recorded in Hoboken (the Pigeon Club) and Chapel Hill (Modern Recording), the CD also includes a bonus track of Gene Parsons and Sally singing a duet on the Gram Parsons classic "Hickory Wind."

"Mockingbird" also features performances by Jim Mastro (Ian Hunter, Jayhawks, Bongos), Graham Maby (Natalie Merchant, Joe Jackson), Brandon Bush (Train recordings), Faye Hunter (Let's Active), John Teer (Chatham County Line), Lyons, Stamey, and NYC guitar ace Rich Feridun.
---

Page put together (with info & pics from Bob Gramann ) by Ernest Ackermann.
Send rants/rave to above mentioned Ackermann
Last Time I changed anything on this page:
---
| | | | |
| --- | --- | --- | --- |
| You can help support this site by buying books, CDs, and other items after clicking on any of these links. | | | |
Feedback on this Web site