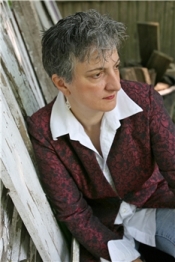 Her first record in five years and her third album overall, Timber & Nails, is the sound of a songwriter growing cozy in her own skin. Her words and music come from the soul of someone who has finally, after a long search, discovered her identity as an artist.
Mary Ann Rossoni, band leader, writer and lead vocalist is not new to the scene having toured for several years as a soloist and with her band. She was raised in Johnston, RI yet has called Providence her home since graduating from the Rhode Island School of Design with a degree in Illustration.
She is thankful to be a self employed artist and musician and likes it that way. She has a wide range of influences but attributes most to 70s rock and her all-time musical heroes: B. Springsteen, J. Mitchell, J.Taylor, G. Estefan and Yo Yo Ma-oh and let's not forget her 5th grade teacher Mr. Skitt.
Mary Ann Rossoni's MP3 music on Amazon

Mary Ann Rossoni's music on CD on Amazon
---

Page put together (with info & pics from Bob Gramann ) by Ernest Ackermann.
Send rants/rave to above mentioned Ackermann
Last Time I changed anything on this page:
---
| | | | |
| --- | --- | --- | --- |
| You can help support this site by buying books, CDs, and other items after clicking on any of these links. | | | |
Feedback on this Web site