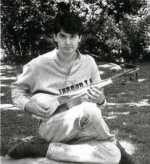 On the surface, Chris Rosser may appear to be your typical all-American, white singer-songwriter wielding an acoustic guitar, but one listen to his new album,The Holy Fool, gives quite a different impression. For his second solo recording, Rosser plays not only guitar, but Indian dotar, Turkish saz, Wurlitzer electric piano, electric sitar and more - combining folk, pop and world music into a refreshingly beautiful sound that is anything but ordinary. Self-recorded and produced in his Asheville, NC home studio, The Holy Fool showcases Rosser's talents as a singer, multi-instrumentalist, arranger, and foremost, as a songwriter. With songs of homecoming queens, ashrams, relationships, spirituality, Federico Fellini and small town churches, Rosser displays his unique lyrical voice in "lovely homages to the experience of being alive and human."(Dirty Linen)
Since the release of his highly successful debut album, Archaeology (ISG Records), Chris Rosser has toured the country by airplane and Honda Civic, won first place in the Rocky Mountain Folks Fest 2000 Troubadour contest, showcased at the Falcon Ridge and Kerrville Folk Festivals, and received a grant to study Hindustani classical music with world famous Indian musician, Ali Akbar Khan. In 1997, Archaeology won the favor of fans, critics and radio stations alike, landing in the Top 30 of The Gavin Report and Crossroads charts. It was also selected as one of the top independent albums of the year by Christine Lavin, the Internet FolkVote '97, The Performing Songwriter and more.
Growing up in the tiny town of Casar, NC (pop.350), Rosser's musical journey began with classical piano lessons from his mother and a fascination with the large record collection of his parents. Raised in a Baha'i family, he was exposed at a young age to a diversity of cultures, and many musical seeds were planted. Rosser was particularly attracted to the haunting music and chanting of the Iranian Baha'is at religious gatherings. In high school, he played French horn in the orchestra, piano in the jazz band, and electric bass in numerous garage bands, while secretly beginning to write songs of his own. A fondness for the music of Bruce Hornsby, Jaco Pastorius and Pat Metheny (and a full scholarship) led him to the prestigious University of Miami School of Music where he studied jazz piano and studio recording.

During his last year in Miami, he taught himself to play acoustic guitar and began to seriously focus on songwriting after discovering the music of contemporary folk musicians like Shawn Colvin, Nanci Griffith, David Wilcox and Patty Larkin. Simultaneously, he also began his study of Indian music by taking classes on the tabla drums. In 1995, after two years of working as an engineer in a Charlotte, NC recording studio, Rosser left his 401k and health plan behind, moving to the mountains of Asheville to pursue performing full-time. He has since released a duo album Face The East (with his wife, Lynn), two solo albums, and shared stages with many of the finest performers in acoustic music.

---

Page put together (with info & pics from Bob Gramann ) by Ernest Ackermann.
Send rants/rave to above mentioned Ackermann
Last Time I changed anything on this page:
---
| | | | |
| --- | --- | --- | --- |
| You can help support this site by buying books, CDs, and other items after clicking on any of these links. | | | |
Feedback on this Web site