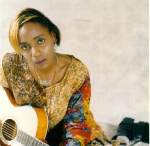 "I like taking snapshots of emotions that are hard to describe," says singer-songwriter Robin Renée of her songcraft. The 13 "snapshots" that make up In Progress find Renée adjusting the aperture of her mind's eye to explore the deep, complex emotional experiences that defined her early adulthood. Renée opens the title track by acknowledging the circuitous path of progress: "Time to find my way back home", and later in the song affirms her artistic identity: "I'm a camera in disguise/ Clicking off the snapshots as each new pose arises...." In Progress shows Renée coming of age, awakening her artistic voice, negotiating love's challenging currents, lerning to get up after falling, and progressing forward -- or around a metaphorical circle.

"In the end I feel we all come back around," she sings in "The Beginning",,and in the chorus: 'Here I go again to the start of things.' Renée's vignettes chronicle an artist's inward spiral through the layers of experience to reveal the soul.

The Atco, New Jersey-based artist learned classical piano as a child, but later embraced the guitar for its portability. An artistic epiphany came in her teens as she watched David Bowie perform on Saturday Night Live in a long gown. For Renée, the dramatic moment dissolved gender conventions and inspired her to use poetry and music to expand her own bisexual identity, free of society's conformist constraints.

Renée's musical style blends a poet's eye with Punk and Post-punk's independent, defiant spirit, New Wave's quirky art-pop, and the edgy introspection with which singer-songwriters like Jackson Browne, Warren Zevon, Elvis Costello, and rock poet Patti Smith dissected life. Renée has referred to herself as "a balladeer through the emotional filter of underground rock," but In Progress showcases a diverse range of musical temperaments, from acoustic pop ballads to searing, guitar-propelled rockers to an a cappella tune, all reflecting the shifting emotional terrain of our lives.

Renée teamed up with Philly-based producer jayar (Chaka Khan, George Benson, McFadden & Whitehead), who strayed from his R&B background because he was drawn to the honesty and strength that infused Renée's rock material.

Renée's lyrical intensity and sharp perception give In Progress a dynamic emotional breadth. On "Silent Partner", an electric guitar's dirty distortion throttles with urgency as Renée responds to a partner's slide into numbing addictions. A bounding bassline melodically anchors the bright acoustic pop jangle of "For Today". On "Progress", the Rittenhouse String Quartet elevates Renée's gentle acoustic reflections with elegant grace. A slick R&B groove helps Renée turn the page on 'Spiritual Ink", while the punchy pop-rock of 'Pennies and Perfume" is powered by a serrated guitar riff on the verse, then shifts to a shimmering arpeggio beneath Renée's delicate vocal. "I Could Love You' engraves a playfully insistent pop melody with lighthearted lyrical irony. Renée's musical vision, coupled with Jayar's production and supported by strong lead guitar (Tim Jordan, Mike Carhno, Reggie Wu) and fluent bass (Steve Green), invite repeated listening.

Outside of music, Renée is a poet and essayist who has been published in such journals as The New York Quarterly, Inciting Desire, and Northeast Corridor. She is also an activist with several bisexual advocacy and social groups, and works to develop social and support networks.

---

Page put together (with info & pics from Bob Gramann ) by Ernest Ackermann.
Send rants/rave to above mentioned Ackermann
Last Time I changed anything on this page:
---
| | | | |
| --- | --- | --- | --- |
| You can help support this site by buying books, CDs, and other items after clicking on any of these links. | | | |
Feedback on this Web site