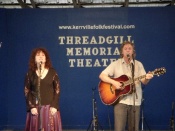 Together, in 2007, Siobhan Quinn and Michael Bowers have been selected as Kerrville New Folk Finalists, Falcon Ridge Folk Festival Emerging Artists, Southwest Regional Folk Alliance Formal Showcase Artists, Northeast Regional Folk Alliance Formal Showcase Artists, Performance Alley (formal showcase) Artists at the International Folk Alliance Conference, and Alternates for the FAR West Folk Alliance Conference. They both were instructors at the Rocky Mountain Song School this year, and performed on the Wildflower stage at the Rocky Mountain Folks Festival. Clearly, this duo is on the rise!
Siobhan--
"She sings, and I surrender." Those words sum up the experience of listening to Siobhan Quinn deliver a song. She can blow your hair back with blues, enchant you with a song in Irish (Gaelic), and make your heart hope or feel longing with a sensitive ballad. She's toured throughout the U.S. and the U.K., had airplay on more stations than can be listed here, and is widely sought after as a vocal teacher.

Boston Folk Festival Finalist, WAMMIE award winner, vocal teacher and coach at Kerrville Folk Festival, Swannanoa Gathering, Summersongs, and Rocky Mountain Folks Festival, Siobhan Quinn is a force and a talent that cannot be ignored.
Michael--
Michael Bowers is known for his songwriting, and his way of delivering the words he writes. He'll tease you, flirt, touch you, and take you into the lives of the characters he writes about--even if the characters end up being you, or himself. He will, alternately, make you laugh, make you cry, get you all excited, and leave you hopeful.

A 2005 Kerrville New Folk / 2006 South Florida Folk Finalist, Bowers delivers the songwriting goods. He's received significant radio airplay in Europe and Australia, as well as across the U.S., and toured nationally as a solo artist prior to joining with (and marrying) Quinn.
Combined, Siobhan and Michael produce rich original and traditional music with strong harmony laden vocals over acoustic, resonator, & high strung guitars. They'll entertain you, and call you to look at the world, and yourself, in a new and bigger way. That's what good music should do for all of us, and that's what they do best.
---

Page put together (with info & pics from Bob Gramann ) by Ernest Ackermann.
Send rants/rave to above mentioned Ackermann
Last Time I changed anything on this page:
---
| | | | |
| --- | --- | --- | --- |
| You can help support this site by buying books, CDs, and other items after clicking on any of these links. | | | |
Feedback on this Web site