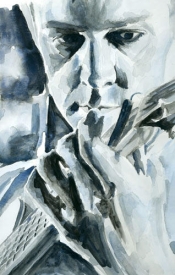 "Solitary Travel marks the debut of a major talent in the world of acoustic guitar. If Kottke, Fahey, and Simpson are household names where you live, consider getting familiar with Sam Pacetti's work. This guitarist is an enormous talent. Whether playing a reel, covering Martin Simpson or dishing out a ravishing original, Pacetti is a simply astonishing guitarist..." - Eric Fidler, AP.
Ten Years ago Sam Pacetti released Solitary Travel. He won "Best New Artist" at Falcon Ridge, had become the "new buzz" in the folk world...and was on his way to stardom. He was 24. Recently, while working on future playlists, I put on Union, the new album from Sam Pacetti with partner Gabriel Valla. Whoa. One song after another, I could not concentrate on what i was doing. Sam's delivery is passionate, confident, and as attention grabbing as Mark O'Connor's playing. His own compositions are full of metaphor and imagery, and the songs chosen by other writers seem made for him. Sam Pacetti is simply one of the best unknown singer/songwiter guitaists alive today.
Here'a line from Sam's "Augustine," a passionate rekindling of an old love:
"You are the moon that shines upon my dream in wakefulness,
I am the sorcerer that casts the spell to calm your seas.
And on your beach I run, and on your waves I play
I take flight with the gulls, I'm changing everyday".

Sam Pacetti's music on Amazon
---

Page put together (with info & pics from Bob Gramann ) by Ernest Ackermann.
Send rants/rave to above mentioned Ackermann
Last Time I changed anything on this page:
---
| | | | |
| --- | --- | --- | --- |
| You can help support this site by buying books, CDs, and other items after clicking on any of these links. | | | |
Feedback on this Web site