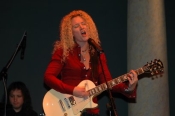 Karyn Oliver, an up-and-coming singer-songwriter from Baltimore, has been turning heads on both sides of the Atlantic with her skillful songwriting and a passionate, soulful voice that could break your heart through a brick wall.
Oliver's musical inspiration comes primarily from the eclectic mix of music she was exposed to while growing up in the musically diverse culture of Washington, D.C. As a child, she learned to play rock 'n roll on her guitar and, being inspired by the likes of the Beatles, Everly Brothers, and Carol King to write some of her first songs. At the same time she was also being trained in both classical voice and musical theatre.
2007 marks the release of Oliver's debut CD, "Hurricane", and critics have already begun to take notice. While showcasing a wide range of music styles is usually reserved for established artists, the diversity of Oliver's music has been getting international rave reviews, simply because she pulls it off so easily.
Oliver's music has been featured on radio stations in both the U.S. and Europe, including WLOY, WRYR, Radio Crystal Blue, Moray Firth Radio, The Upper Room with Joe Kelley, and Radio Parkstad. Oliver has also performed live on Maryland Public Television's "MPT Artworks", and Radio Midvliet in Den Haag. Executives from Sennheiser were so impressed with the quality of her voice that they have requested permission to use tracks from "Hurricane" to demonstrate the quality of Neumann recording microphones.
Oliver recently ended a two-year term as President of The Baltimore Songwriters' Association in order to commit more time to supporting the new album. In the spring of 2007, she completed a successful 4-week tour of Europe. Oliver will play up and down the east coast this fall, and is currently planning another European tour for early 2008. Oliver also hosts a weekly radio show in Baltimore, highlighting and providing exposure for other regional songwriters.
With a stellar review in Maverick Magazine (4 ½ out of 5 stars!), and glowing feedback from such publications as CoffeehouseTour.com, Baltimore Magazine, and Music Monthly Magazine, Karyn Oliver is causing quite a stir right now.
Karyn Oliver's MP3s on Amazon
Karyn Oliver's CD Hurricane on Amazon
---

Page put together (with info & pics from Bob Gramann ) by Ernest Ackermann.
Send rants/rave to above mentioned Ackermann
Last Time I changed anything on this page:
---
| | | | |
| --- | --- | --- | --- |
| You can help support this site by buying books, CDs, and other items after clicking on any of these links. | | | |
Feedback on this Web site