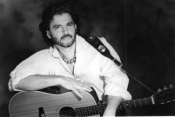 Michael Johnathon is a folksinger, a songwriter, a concert performer, an author . . . and has a worldwide radio audience of over 500,000 each week. He also created the first multi-camera series broadcast in the history of the Internet. Take a look at Woodsongs Old Time Radio Hour.
Michael grew up in upstate New York along the shores of the Hudson River. At 19 years old, he moved to the Mexican border town of Laredo, Texas to work as a late night DJ on KLAR-FM. One night, he played Turn, Turn, Turn by the 60's folkrock group The Byrds. As the song played, he recalled seeing folk artists like Pete Seeger, Harry Chapin and others performing in his hometown.
By the time the three-minute song ended, he decided to leave Laredo and pursue a career as a folksinger.
Two months later, he bought a guitar and a banjo and settled into the mountain hamlet of Mousie, Kentucky. For the next three years, he traveled up and down the hollers of the Appalachian mountains knocking on dors and enjoying the music of the mountain people.
Michael experienced hundreds of front porch hootenannies throughout Appalachia where folks would pull out their banjos and fiddles and play the old songs that their grandparents taught them.
He began performing concerts at hundreds of colleges, schools and fairs. He sang songs about the earth, performed benefits for the homeless, farm families, and played for shelters helping battered women and children. In all, he sang to over two million people in one four-year stretch. Billboard Magazine headlined him as an "UnSung Hero." He has been featured on CNN, TNN, Headline News, NPR, the Bravo Movie Channel and several syndicated radio shows.
Some of his CD's include The Road and WoodSongs
The Inspiration for the WoodSongs Old Time Radio Hour
A few years ago, Michael wrote a book and recorded a CD called WoodSongs. Literary reviewers have described the 176 page book as "...Walden meets Mother Earth News meets USA Today meets MAD Magazine." It is an entertaining mix of songs, poetry and social commentaries.
Along with the book is the 16-song, all-acoustic WoodSongs compact disc. The musical highlight of the all-acoustic CD is a duet of a mountain song titled New Wood that Michael sings with his concert partner, the legendary Odetta. Other featured musicians on the CD include Grammy winning banjo master JD Crowe, Appalachian icon Jean Ritchie, mountain musician Homer Ledford and others.
The success of that project resulted in the creation of radio's only live audience program dedicated to brilliant but unknown artists. The show, called the WoodSongs Old-Time Radio Hour which Michael writes and hosts each week, is now broadcast on over 400 radio stations in 32 countries across the USA and around the globe. The show, with a weekly audience exceeding a half million listeners, is also the first multi-camera weekly series to broadcast on the Internet. Take a look at http://www.woodsongs.com/wotrh.html.
You may enjoy The Best of Michael Johnathon's WoodSongs Old-Time Radio Hour Volume One
---

Page put together (with info & pics from Bob Gramann ) by Ernest Ackermann.
Send rants/rave to above mentioned Ackermann at ernie@webliminal.com
Last Time I changed anything on this page:
---
This page is hosted by Webliminal.com, a site on one boundary of the Web. Visit and while you're at it take a look at some of Ernie's books about the Web.
| | | |
| --- | --- | --- |
| You can help support this site by buying books, CDs, and other items after clicking on any of these links. | | Recommendations |
 Feedback on this Web site