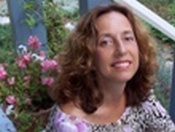 Based in the Shenandoah Valley of Virginia, vocalist, guitarist and songwriter, Barbara Martin roots her music solidly in the traditions of American blues and jazz. Her performances seamlessly cross genres, reflecting her unique blend of styles.
Over a 20 year career Barbara has produced seven recordings, impressing critics with her original songs and the vocal stylings to put them across: "a songwriter with an unexpected gift for sultry melody and a singer with a penchant for smoldering seduction." Geoffrey Himes, Baltimore Sun. She was chosen as one of ten recent releases by worthy jazz singers by Alexander Gelfand, Jazziz Magazine. She has performed at numerous festivals and concerts including The Kennedy Center and Fleet Blues Festival, Albany, NY. Barbara's commitment to carrying on the traditions of American music to the next generation is reflected in her Parent's Choice Silver Honor Award for her children's recording, From Ragtime to Rock and Roll.
Barbara's intuitive approach to life and music has been challenging, but never boring. At 39 she left the security of a career in social work to become a full time musician. After five years of frustration singing covers in noisy bars, she took another chance, recording her original songs and touring the country as a solo performer. Then she found her true love, traditional jazz, beginning with Bessie Smith and immersing herself in the great jazz vocalists and composers.
Barbar Martin's Music on Amazon
---

Page put together (with info & pics from Bob Gramann ) by Ernest Ackermann.
Send rants/rave to above mentioned Ackermann
Last Time I changed anything on this page:
---
| | | | |
| --- | --- | --- | --- |
| You can help support this site by buying books, CDs, and other items after clicking on any of these links. | | | |
Feedback on this Web site