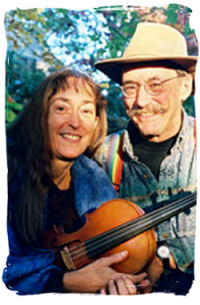 Laura Light and the Avant Gardeners are a nationally touring swing and contra dance band, awesome tunesmiths and songwriters, and fun generators for young audiences.
This is upbeat, swingy, wholesome, traditionally flavored, original American music. Joined by husband George Paul, of Eagle River Alaska, Laura has recently released a cd of original waltzes, THE KATCHEMAK BAY WALTZ. Laura and George are currently touring full time, often joined by gardeners Dave Wiesler, Roger Gold, Scottie Williams and Christen Hubbard in various combinations or simply as a duo. STRONGER THAN DIRT features the fiddling and singing of Laura Light, Dan Sebring on guitar, mando and fiddle, Dave Wiesler on piano and banjo, Paddy League on percussion and Ralph Gordon on bass. Laura, Dave, Ralph and Paddy are all veterans on the folk music scene, appearing at festivals and dance camps all over the country. Based in Virginia, the band is famed for their outrageous rock and roll contra dance sets, hot swing, and highly original arrangements of traditional music.
You should also check out Laura's CD No Gravity. It reflects her eclectic tastes and features original and traditional songs, jigs and reels, swing and salsa.
---

Page put together (with info & pics from Bob Gramann ) by Ernest Ackermann.
Send rants/rave to above mentioned Ackermann
Last Time I changed anything on this page:
---
| | | | |
| --- | --- | --- | --- |
| You can help support this site by buying books, CDs, and other items after clicking on any of these links. | | | |
Feedback on this Web site