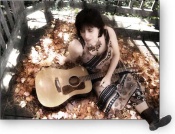 Laura Baron has developed her sound for many years. Her voice is capable of a wide range of colors and emotions. She has received many awards for her songs which range from children's music to folk to jazz to blues.
Laura began co-producing children's music recordings in the 80's and 90's with Patti Dallas. Their company Golden Glow Recordings has sold 1000's of their recordings across the nation and won awards and acclaim www.goldenglowrecordings.com Her first original songs were written for young children. Laura also sang professionally throughout the DC area and developed her jazz technique as a vocalist in big band settings. Laura has created her own sound combining folk, blues and jazz. Her voice has been compared to Joni Mitchell and Shawn Colvin. She has studied voice for many years and continues to expand her improvisational skills. She mixes scatting into her folk and blues tunes. From the humorous to the sublime, she fills each song with sensitivity and passion. Laura often performs as a duo or a trio. Song collaborator Pat Quinn a talented guitarist and bass player creates rich vocal harmonies. Laura was invited to join Azalea City Recordings in 2006. Washington DC's Azalea City Recordings is a Wammie Award winning record label. She released her CD Stay With Me
with ACR in May 2006. In 2005 Laura was nominated for a 2005 Wammie for Contemporary Female Folk artist!
---
---

Page put together (with info & pics from Bob Gramann ) by Ernest Ackermann.
Send rants/rave to above mentioned Ackermann
Last Time I changed anything on this page:
---
| | | | |
| --- | --- | --- | --- |
| You can help support this site by buying books, CDs, and other items after clicking on any of these links. | | | |
Feedback on this Web site