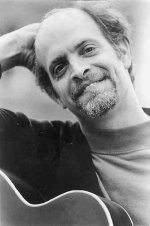 Jimmy Landry was born in the Columbia Hospital For Women In Washington, D.C., on the day the worlds first satellite, Sputnik, was launched into orbit. (Does that make him the original space cadet?). After ruining several tennis rackets by pretending they were guitars he received his first real stringed instrument at the age of twelve. Soon after, he was performing with a church folk group in which he was the only non college-aged player. Their visits to anti-war protest marches allowed Landry to hear Bob Dylan, Joan Baez, and Peter, Paul, and Mary for free; a price that fit his allowance just fine. His time spent at the University of Dayton expanded his musical horizons. Working with the Student Government Association, he booked concerts for the college. He got Billy Joel and the Ozark Mountain Daredevils but passed on the Little River Band. His booking and promotion work continued back in D.C. for another small college, then a restaurant/bar; all the while he was moving closer and closer to becoming a full time musician.
It was Jonathan Edwards who gave Landry the nudge he needed to hit the road. "Go play anywhere you can, for anybody, anytime for any amount of money," Edwards told him. And he did. He logged over 328,000 miles on his most recent vehicle. Tens of thousands in air travel. He's toured Germany, playing 18 shows in 20 days. Spent two weeks playing in Paris. Along the way, he's found time to swim with dolphins in the Florida Keys, did some hang-gliding on North Carolina's Outer Banks, and smeared clay all over his body at a Martha's Vineyard nude beach. More importantly, he's released four independent recordings. His latest, Let Go, he co-produced with John Alagia (Jackopierce & The Dave Matthews Band) and Doug Derryberry. It's his finest and most comprehensive work to date and it's already getting airplay at some of the nations finest folk -and acoustic stations.
Landry's interest in music is not limited to his creations only. He recently spearheaded the formation of Independent Songwriters Group, the new label that features himself, Christine Kane, and Here We Are ,a compilation of talent from the Asheville, NC area. He also hosts the Emerging Songwriter Series at the Grey Eagle Music Hall in Black Mountain, NC.
About his thirst for music, Landry states, "I guess it goes back to that church folk group, music is the vehicle that connects me to spirituality." More and more, audiences around the country are delighting in his music and sharing in that connection.
---

Page put together (with info & pics from Bob Gramann ) by Ernest Ackermann.
Send rants/rave to above mentioned Ackermann
Last Time I changed anything on this page:
---
| | | | |
| --- | --- | --- | --- |
| You can help support this site by buying books, CDs, and other items after clicking on any of these links. | | | |
Feedback on this Web site