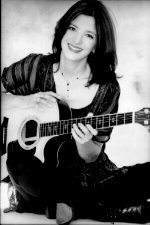 Six feet of presence, power and passion, Los Angeles singer and songwriter, Eleni Kelakos, brings a warm and comfortable intimacy to her live shows, spinning her musical stories with humor, insight and a shattering truthfulness. Celebrated for having "One of the most powerful and dynamic voices in the indie world today," (Independent Songwriter Web Magazine), Eleni tells stories full of the rich details of human experience, infusing her performances with an engaging theatricality honed by many years as an actress of the stage and screen.
Her debut CD, I WILL FLY, released by EEK! records in 1998 to excellent reviews, received considerable airplay on folk, acoustic and women's music stations across the United States, garnering a place on the Folk DJ list of Best New CDs of 1998 and Richard Gillmans's list of Most Aired CD's OF 1998. An Emerging Songwriter Finalist in the 1999 Napa Valley Festival, Eleni recently released her much anticipated second CD, TO THE BONE, an all-acoustic collection of her best story songs.
A self-described "embassy brat," Eleni spent the first fifteen years of her life living in Paris, Rome and Israel, traveling extensively throughout Europe and the Middle East. Besides absorbing a myriad of musical styles and rhythms, she developed keen powers of observation and an appreciation for the diversity (and similarity) of peoples the world over. Believing deeply in the transformational power of the sung and spoken word, Eleni tackles "difficult" subject matter (spousal abuse, gang violence, sexism and ageism), gently shining a light on the issues without hammering home a solution. Sending a message of hope through personal empowerment, Eleni's thought-provoking, emotionally stirring and uplifting music has been a welcome and popular part of the festival, club, coffeehouse and college scene (as well as at spiritually/healing oriented retreats and workshops and women's advocacy groups) throughout the United States. Eleni is a proud member of the national INDIEGRRL networking organization, and a frequent participant in/guest-host of the Los Angeles singer/songwriter forums, Women and Their Power Tools and a Buncha Damn Songwriters.
---

Page put together (with info & pics from Bob Gramann ) by Ernest Ackermann.
Send rants/rave to above mentioned Ackermann
Last Time I changed anything on this page:
---
| | | | |
| --- | --- | --- | --- |
| You can help support this site by buying books, CDs, and other items after clicking on any of these links. | | | |
Feedback on this Web site