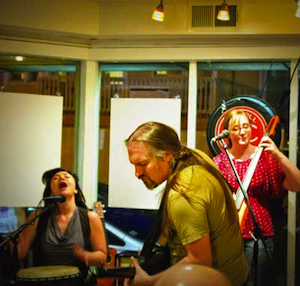 ilyAIMY (i love you And I Miss You) is a percussive acoustic rock animal hailing from Baltimore, MD. Mixing genres from rock to folk to soul to bluegrass; flavours as varied as jazz and hip hop curl through what is undoubtedly one of the most exciting sounds in today's folk(ish) music scene. Recently hailed as an audience-voted "Most-Wanted Artist" at Falcon Ridge Folk Festival, ilyAIMY combines award-winning songwriting, tight male/female harmonies, signature intricate slap-style guitar work, ukulele, djembe and a curiously Muppet-like stage presence into an exquisite package.
And that's just the duo.

2012 marks the 9th year ilyAIMY has spent traveling these United States. From coast to coast and end to end rob Hinkal and Heather Lloyd have been Living off of papercuts and string cuts, their music and their wits for almost a decade. In the past year alone they've received accolades from Falcon Ridge Folk Festival, the Northeast Regional Folk Alliance, the National Association for Campus Activities and the Mid-Atlantic Song Contest, and over the years have played everything from bait shops, to biker weeks, colleges and coffeehouses and clothing-optional resorts.

ilyAIMY music on Amazon
ilyAIMY appeared in the November 2012 Showcase.

---

Page put together (with info & pics from Bob Gramann ) by Ernest Ackermann.
Send rants/rave to above mentioned Ackermann
Last Time I changed anything on this page:
---
| | | | |
| --- | --- | --- | --- |
| You can help support this site by buying books, CDs, and other items after clicking on any of these links. | | | |
Feedback on this Web site