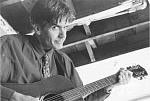 "I get to tour in Europe and I can't get sued for malpractice" are the reasons former psychologist Dan Hart gives for abandoning the 50-minute hour for the life of a singer/songwriter. Now based in the Baltimore area, Dan has been performing his unique mix of folk, rock and comedy at clubs across the U.S. and Europe for 20 years. Dan's tours have taken him to 30 states and 8 European countries.
Dan was born in Chicago and grew up in Los Angeles, the son of a broadcaster and a writer. Since leaving L.A. he has lived in almost every region of the U.S.; his lyrics combine Midwestern honesty, West Coast humor and East Coast cynicism.
Hart applies these qualities to topics such as the environment, mass media, psychotherapy, and problems of everyday living in a confusing technological world. Hart's newest CD The Life of Dan (Fall 2001) features snappy, electric-folk arrangements and an assortment of characters including alienated kindergartners, retro fashion bugs, vegan cowboys; and yes, folkies and singer-songwriters. The CD put yet another of Dan's songs on "Funny Five" of the nationally-syndicated Doctor Demento radio program (to which Hart has been a regular contributor for 20 years) and appears on the Doctor's Basement Tapes vol. 10. Life of Dan also made the Folk-DJ top 100 in its first month. The CD landed him an interview on National Public Radio's Here and Now program. Dirty Linen magazine said of the CD: "in the best tradition of Tom Lehrer and Dr. Demento, [Hart] skewers anything and everything within choking distance."
Life of Dan and Hart's previous CD Apocalypse Now and Then have received airplay on radio stations across the U.S., and two songs have been featured on National Public Radio's Car Talk program. Doctor Demento called his songs "very timely...quite amusing." His songs have received recognition in national songwriting competitions, including the Kerrville Festival's New Folk series. He has also been featured on New York's Fast Folk musical magazine.
www.danhart.net.
---

Page put together (with info & pics from Bob Gramann ) by Ernest Ackermann.
Send rants/rave to above mentioned Ackermann
Last Time I changed anything on this page:
---
| | | | |
| --- | --- | --- | --- |
| You can help support this site by buying books, CDs, and other items after clicking on any of these links. | | | |
Feedback on this Web site