d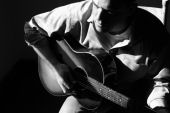 It was a hot and humid September afternoon in Richmond, Virginia. The vinyl of that Chevy wagon stuck, sweated, and cooked as Andrew Gibson's mother reached over to the backseat and handed him a spiral notebook and a pencil. Andrew was 7 years old, heading to his first lesson in music and his piano teacher wanted him to write down some songs he would like to learn. After a few seconds of careful thought, Andrew excitedly wrote down "Star Wars", "Chariots of Fire", and yes, the "Love Theme of Superman".

For the next four years, Andrew took lessons once a week, rarely practicing, but frequently going to lessons and playing in recitals. Never learning songs he wanted to play, including the few written down in that sweaty notebook, Andrew became frustrated and bored with the piano and the lessons eventually stopped.

Not long after, however, something soundly tucked in a deep coat closet would be found – a guitar case made of dusty cardboard and plastic, covered in a paper skin resembling that of an alligator. Never noticing it before, Andrew pulled the case out and opened it up. Inside was a beautiful acoustic sunburst guitar and it had his name on it. It was a 1958 Gibson LG-1, once owned by an uncle he never knew. That guitar changed everything.

Even though the guitar was cracked, scratched, and warped with barely enough tone to carry a tune, Drew bought a lesson book, a cassette tape to tune the thing, and he was off learning chords and songs and neglecting schoolwork. Never taking one lesson, Gibson's musical ability grew, eventually crossing many styles and genres. Over the next few years Drew bought a new guitar, played in some bands, began writing, started singing, booked gigs, recorded music, tossed his picks in the garbage, grew out his fingernails, and well, went to college.

And in college there were coffeehouses, talent shows, and, of course, open mikes. And from college Drew moved up across Pennsylvania to Pittsburgh, with Waits, Springsteen, Cray, and Clapton echoing from his stereo. And from Pittsburgh further on to Cleveland with blues jams and blues band sit-ins, and where many gathered every Wednesday to see Robert Lockwood, Jr. perform. All the while discovering blues and continually writing, Gibson eventually left Cleveland and headed back home to Virginia, where he lives today.

Drew is a songwriter with a heart for the simple things - dusty streets, back porch exits, letterboxes, and all things folk and blue. With influences from Robert Johnson, Big Bill Broonzy, Mississippi John Hurt and Greg Brown, spinning stories and tunes is truly this working man's craft. On November 26, 2004, Drew began work on his debut album with producer, Marco Delmar, at Recording Arts Studio in Fairfax, Virginia. "It's been a long time coming," says Drew. "I've been sitting on a collection of work for many, many years, and now I'm ready to take the next natural step." The production will feature Gibson in his many elements - course and heartfelt, solo and spontaneous - with a few cuts along side an accompanying backline including drummer Robbie Magruder (Mary Chapin Carpenter). "Together, I really believe Marco and I will be shaping this project into something unique and terrific." The yet-to-be titled album will be ready for release in late winter of 2005.




---

Page put together (with info & pics from Bob Gramann ) by Ernest Ackermann.
Send rants/rave to above mentioned Ackermann
Last Time I changed anything on this page:
---
| | | | |
| --- | --- | --- | --- |
| You can help support this site by buying books, CDs, and other items after clicking on any of these links. | | | |
Feedback on this Web site