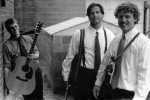 Cast Iron Filter
Even though many artists get someone to write a little biographical sketch in order to sound very professional, we thought it would be nice to write it ourselves, from our perspective. So here we go. Describing our music isn't easy. It's not completely folk. It's not completely bluegrass either. Maybe it's a mix of the two. Maybe it's "Americana." Frankly, most people define our sound in so many ways that the best bet would be to just give it a listen for yourself.
We formed the band somewhere around September 1998 and started playing pretty much for anybody who cared to listen, playing different songs we had learned or created along the way. The members of the band are Dustin Edge (guitarlvocals/harmonka), Randy Culbertson (guitar/vocals), and Mike Orlando (mandolin/banjo/guitar). We've all lived in Charlotte since around 1996. We come from different backgrounds, but so does everybody.
Basically, we just like to play songs. We like to play for anyone who will listen. Our sound tries to take acoustic music in a new direction, keeping true to our folkish roots. Maybe you could label it as "alternative country." But what is that exactly? We really don't know for sure. Basically, we just write songs about stuff that happens to people in real life. Sometimes we tell stories. Sometimes we don't. The way it comes out is just the way it comes out.
We recently released our first album, Paradise in Palestine. We completed the project in about two months, including preparation and planning. Actually, we knocked out the recording part in just four days - not bad when you hear the .finished product. Paradise in Palestine also features the talents of Gary Greene, percussionist for Hootie and the Blowfish. All told, Gary was a great guy to work with. We had a little party in April at the 900 Room at Davidson College for a beyond-capacity crowd in order to release the CD. It was nice.
We've played a variety of places around the Charlotte area and are looking to branch out to as many venues as possible. Playing our musk for people is probably our favorite thing to do in life. It's not so much about being extremely successful. It's just that when we started playing, people liked it. So we kept playing. It seemed to make people happy. We liked doing that. Yes, this sounds touchy-feely. Oh well. That's the truth.
---

Page put together (with info & pics from Bob Gramann ) by Ernest Ackermann.
Send rants/rave to above mentioned Ackermann
Last Time I changed anything on this page:
---
| | | | |
| --- | --- | --- | --- |
| You can help support this site by buying books, CDs, and other items after clicking on any of these links. | | | |
Feedback on this Web site