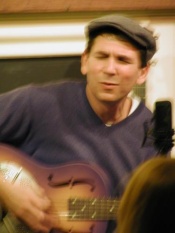 Brady Earnhart's first CD, After You, was independently released in April 1998. Described in Acoustic Guitar magazine (February 1999) as "A truly outstanding debut" and by the magazine's reviewer Elizabeth Papapetrou as one of the ten best contemporary folk CD's of the 1990s, After You features Earnhart's warm and personable vocals and innovative acoustic guitar work, accompanied by some of the finest musicians on the Charlottesville, VA folk and classical music scenes, including Freyda Epstein on background vocals, Jennifer Self on cello, and Fred Boyce on banjo.

Earnhart's carefully crafted songs show the influence of styles ranging from American folk traditions ("Stick," "Time Was") to British ballads ("Garden," "Albany") to acoustic alternative rock ("Don't Turn," "Something About Him"). His songwriting has been compared to those of Nick Drake, Lyle Lovett, Richard Thompson, John Martyn, and Joni Mitchell. It is marked by lyrical invention, intelligence, sincerity, nostalgia, and humor.

Earnhart's own version of "Time Was" has just been released nationally on the latest OasisAcoustic sampler, and "Gargoyle" appears on Charlottesville radio station WNRN's Station Break, a new, highly selective compilation of songs by local musicians.

Originally from Delray Beach, FL, Brady has been playing guitar for 25 years. After receiving an MFA in Poetry from the University of Iowa, he began writing songs seriously in 1989. In 1992 he went back to school once again and got a PhD in English Literature at the University of Virginia in Charlottesville. While he was there, he caught the attention of several local singer-songwriters. Two of them, Browning Porter and Jeff Romano of Nickeltown ended up performing and recording some of his songs (check out "Tide by Tide" and "After You" on their CD Presto Change-O; Nickeltowns cover of "After You" has also been released regionally by public radio station WMRA on the compilation CD In the Shadow of the Blue Ridge.); Jeff ended up engineering and co-producing Brady's first CD. Along the way, Brady has performed at such venues as the Florida Folk Festival, Charlottesville's Prism Coffeehouse , the Shenandoah Coffeehouse Series, and the Caffe Lena in Saratoga Springs, NY, as well as pubs and coffeehouses throughout upstate New York, Washington DC, central Virginia, and south Florida.

---

Page put together (with info & pics from Bob Gramann ) by Ernest Ackermann.
Send rants/rave to above mentioned Ackermann
Last Time I changed anything on this page:
---
| | | | |
| --- | --- | --- | --- |
| You can help support this site by buying books, CDs, and other items after clicking on any of these links. | | | |
Feedback on this Web site