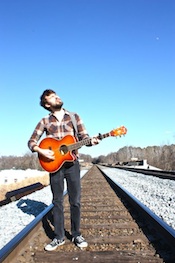 Alex Culbreth has released nine albums and played in several bands in the last seven years. His music has been compared to The Drive-By Truckers and The Civil Wars. He has shared the stage with well-known country and folk acts such as Chris Knight, Spirit Family Reunion, Megan Jean and the KFB, il yAIMY, and Jeffrey Lewis. He has been featured on No Depression, Taproots Radio, Ninebullets Radio, and many notable americana music blogs and radio stations in America and Europe.

What reviewers are saying:

"Listening to Culbreth perform live is eerily familiar to what Bob
Dylan or Nebraska-era Springsteen may have sounded like long ago. Culbreth is not an imitator; it's not his liability that he sounds
comparable. His vocal timber is far reaching and (his) deep sounding
voice only adds to his vocal strength. On stage the singer is
completely at ease, nearly unaware there are people sitting out in the
dark listening…Culbreth seems to breathe invisible fire as he belts
out the song, with subtle nasal twang and a gravel-voiced guttural
purging of emotion…What resonates is the wretched beauty in his voice,
something that is hard to pin down, hard to quantify. He, like many
new artists, is an arbiter of music's bridge to tomorrow." -- Brian
Tucker, "Bootleg Magazine"

"This guy plays guitar and writes songs like no other. He isn't
afraid to state his opinion on sensitive topics and to really provoke
some thought. He plays guitar beautifully in incredible tunings and
his lyrics are full of intelligence, historical references, and
beautiful poetry." -- Joe Isaacs, "Music Matters"

"Alex is a fantastic singer/songwriter in the mold of Woody Guthrie
and Bob Dylan. He's young, but has an unbelievable grasp on language
and wordplay. I have always admired the way he stands by his
convictions. His songwriting is a testament to his social awareness
in a time of apathy. He is certainly one of the finest composers I
have come across in all of my travels." -- Brad Heller of The Fustics
from Wilmington, NC

"Alex has become a vivid presence on the local music scene. His deep,
melodic voice and relaxed stage manner – plus an impressive body of
original and well-crafted songs - gain him new fans all the time." --
Rob Huffman, "Virginia Neighbors Magazine"



Alex Culbreth appeared in the February 2010 and the January 2013 Songwriters Showcase.
---
---

Page put together (with info & pics from Tres Seaver ) by Ernest Ackermann.
Send rants/rave to above mentioned Ackermann
Last Time I changed anything on this page:
---
| | | | |
| --- | --- | --- | --- |
| You can help support this site by buying books, CDs, and other items after clicking on any of these links. | | | |
Feedback on this Web site