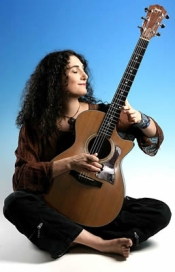 Rachel Cross is known for her high energy performances and positive vibes. She has performed at countless venues, house concerts, colleges, and festivals including The Kennedy Center, on board The Green Peace Rainbow Warrior, and at the Mid-Atlantic conference for The National Organization of Women. She has been fortunate to share the stage with many luminaries including Shawn Colvin, The Neville Brothers, Los Lobos, and political comedian Al Franken.
Rachel has received many awards including 5 WAMMIES from the Washington Area Music Association. Rachel was awarded a position by The National Folk Alliance's outreach program to lead a world folk music assembly program for children in Nashville, Tennessee. When not performing, Rachel is in high demand as a teacher, composer, and session vocalist. Her soulful vocals have been featured on many soundtracks including National Geographic's "Tiger Sharks", "Babylon", and "Self-portrait", and the theme for the ITV Network. Rachel and her husband Henry Cross have composed original music for 10 productions of the nationally acclaimed Deaf Access Theater company.
Rachel has been teaching and leading workshops in the Washington, DC area and beyond for over ten years. She currently has a songwriting/recording residency grant at Peabody School-within- school on Capitol Hill, and she recently completed a songwriting/recording residency with her husband Henry for incarcerated teens in Montgomery County, Maryland.
As a musician, educator, and visual artist, Rachel has had the distinct pleasure of working with people of all ages and abilities including at-risk elementary school students, children with mental and physical disabilities, deaf actors and choreographers, political activists, incarcerated teenagers, teenagers in mental health facilities, college students, Maasai tribesmen, musicians and dancers from all around the world, senior citizens, folk singers, and kindergarteners.
Rachel is proud to announce the release of her latest CD, "Dream Land
" on the Azalea City Recordings label.
"Rachel focuses on lyrics that are meant to inspire listeners - inspire them to laugh or dance or to witness the breadth of her imagination." -Mike Joyce, The Washington Post
"Simply put, Rachel combines the gifts of artistry, humanism, and a great sense of humor into a truly unique package. Rachel's love of learning and sharing music with others is evident from the moment you meet her or witness her work." -Tim Gregory, Director of Nada Brahma Productions
---

Page put together (with info & pics from Bob Gramann ) by Ernest Ackermann.
Send rants/rave to above mentioned Ackermann
Last Time I changed anything on this page:
---
| | | | |
| --- | --- | --- | --- |
| You can help support this site by buying books, CDs, and other items after clicking on any of these links. | | | |
Feedback on this Web site