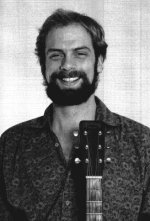 Randy Barrett is a growing presence on the acoustic scene. His songwriting has won numerous awards (including First Place in the Folk category for Hold Me Forever in the 1995 Mid-Atlantic Song contest) and his soulful baritone is gaining fans wherever he goes. Randy garnered the 1996 Washington Area Music Association award (WAMMIE) for Best Male Vocalist in the Traditional Folk category and the 1997 and 1998 WAMMIEs for Best Male Bluegrass Vocalist.
His CD Each & Every Day has gained accolades from a wide variety of listeners. It features eight originals and two updated classics and has a stellar lineup of supporting musicians including Mike Auldridge, Buddy Charleton, Jon Carroll, Pete Kennedy, Dede Wyland and Grace Griffith.
Some call him traditional, others aren't so sure. Randy Barrett doesn't mind not being pigeon-holed. His musical roots are in folk, bluegrass and country but what matters most is the song; whatever the genre, it should be singable and worthy of harmonies. That strategy appears to be working. Randy's songs have been recorded by Chesapeake, Grace Griffith and Peg Loughran. A few of his songs are on the Nashville publisher circuit, ever in hopes of finding an A&R man with taste.
Randy comes from a family of singers - barbershop, classical and stage. One of his earliest recollections is falling asleep under the piano while a jam was in full swing overhead. All that early musical steeping has left an indelible mark - a fine ear, a world-class voice, and a love of performing.

Randy lives in Falls Church, Virginia, with his wife and four children.

"Indeed, if Barrett never wrote another lyric he easily could get by on his singing alone, thanks to his handsome, rough-hewn baritone. It's a storyteller's voice, personable and persuasive, and it swiftly brings to life the characters who populate his ballads and love songs." --The Washington Post
---

Page put together (with info & pics from Bob Gramann ) by Ernest Ackermann.
Send rants/rave to above mentioned Ackermann
Last Time I changed anything on this page:
---
| | | | |
| --- | --- | --- | --- |
| You can help support this site by buying books, CDs, and other items after clicking on any of these links. | | | |
Feedback on this Web site