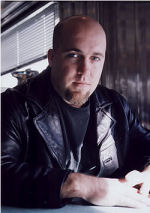 Erik Balkey has been on the road since January 2002. Keeping just a post office box in Philadelphia, he has taken to the highway with his guitar and notebook as well as paint brushes and rollers. He picks up interior house painting jobs to sustain his travels, and performs all over the country from Maine to Texas, Florida to Chicago covering over 50,000 miles annually. Among recent honors, Balkey was named a Kerrville New Folk Winner in 2005 and was selected for a Top-12 DIY feature in the January 2006 issue of Performing Songwriter magazine.
In 2005 Balkey wrote or co-wrote over three dozen songs. Among his writing collaborators are Johnsmith, Jonathan Byrd, Amy Speace, Tom Prasada-Rao, Cary Cooper, Freebo and Pat Wictor. Some of the new songs are gathered on Balkey's two recent releases, Liberty Tree and Sanctuary Road. Liberty Tree is a collection of primarily co-written songs of social relevance with Balkey's side project called "Mission Street Project." His current recordings include performances from, among others, Chris Chandler, the Dreamsicles, Jonathan Byrd, Laurie MacAllister, and Duke Levine (formerly in Mary Chapin Carpenter's band). The Sanctuary Road recording contains includes Balkey's performance at the legendary Kerrville Folk Festival in Texas.
Prior to choosing a life on the road, Balkey began songwriting as part of the Red Bank, NJ music scene in 1994 before a four-year stint in New York City. Among the songwriters in the city, Balkey listened and learned as an active volunteer and performer as part of the Fast Folk Cafe scene of the nineties.
Gathering from his experiences and from his work on songwriting craft, Balkey wrote and recorded his debut album, Negotiations & Compromise, in 2001 and followed that with God's Poet Now (a tribute to Dave Carter) in 2003 and While the Paint Dries in 2004. Legendary Philadelphia radio deejay, Michael Tearson wrote in SingOut! Magazine, "These songs are literate, exacting portraits in amber... Nicely played and beautifully recorded." His albums contain songs that have garnered Balkey recognition in over a dozen songwriting competitions across the country including being named Kerrville New Folk Winner in 2005 as well as finalist at the Mountain Stage New Song Festival songwriting competition in 2003 and 2004.
Balkey's albums have been played on radio stations across the country, each "charting" on the Folk DJ playlists with God's Poet Now peaking at No. 6 for most played song in July 2003. Radio deejays who have played his music include Gene Shay at WXPN in Philadelphia, John Platt at WFUV in New York City, Rich Warren at WFMT in Chicago, and Marilyn Beyer at WUMB in Boston. His tour stops include the Tin Angel in Philadelphia; Makor in New York City; Jammin Java in Vienna, VA; Uncle Calvin's Coffeehouse in Dallas, TX.
Balkey is a member of the Folk Alliance and BMI. He writes the "Songwriter's Tour Guide." He has held volunteer positions with the Fast Folk Cafe (NYC), Music Among Friends ( Hoboken, NJ), the Philadelphia Songwriters Alliance, and Nameless Coffeehouse ( Cambridge, MA).
---

Page put together (with info & pics from Bob Gramann ) by Ernest Ackermann.
Send rants/rave to above mentioned Ackermann
Last Time I changed anything on this page:
---
| | | | |
| --- | --- | --- | --- |
| You can help support this site by buying books, CDs, and other items after clicking on any of these links. | | | |
Feedback on this Web site