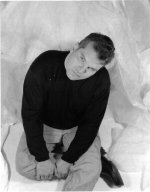 When david was diagnosed with a brain tumor and told he had one year to live, he began a new journey. A rediscovered faith and gentle urgency awoke his passion for songwriting and with his new perspective, he began to pen and perform songs of courage in the hopes of helping others find their way to peace. After more than three years, david, his songs, and his passion are alive and well.
david grew up as the son of Presbyterian missionaries in war-torn Beirut, Lebanon. He studied classical guitar at the age of 12 and began composing at 13. While attending boarding school in Germany, he made his first studio recording, Certain Sounds, and played throughout Central and Eastern Europe. During his college years in Pennsylvania, david made a home in a duo called Bailey & Deasy, but then put his guitar away and then walked into corporate America.
After a decade of silence, david returned to the stage to front a new acoustic duo, Not bv Chance. After 2 studio recordings and 2 years of solid touring, the duo retired and david launched a new solo career in support of his three solo albums, Peace, Love the Time, and One More Day.
Influenced by the work of James Taylor, Kahlil Gibran, and J.S. Bach, david leans on strong melodies and intricate finger picking while his gentle baritone delivers keen insights about his favorite topics: time, faith, hope, love, and dreams.
david has appeared on CBS News/48 hours, NPR, and was a 1999 Kerrville NewFolk finalist. His story has been covered in US News & World Repott, Coping, Presbyterians Today, and his lyrics have been published in Songwriter's Monthly and American Songwriter. He is also the recipient of the inaugural Tim & Tom Gullikson Foundation Spirit award and has shared the stage of hope with such notables as Sam Donaldson, Bonnie Blair, and the Queen of Jordan. He tours nationally throughout the year, performing regularly at folk venues, colleges, churches, and a variety of conferences. When not on the road, david lives in Virginia with his wife and two children where he continues to write and record. Two new projects are planned for 2000.
---

Page put together (with info & pics from Bob Gramann ) by Ernest Ackermann.

Send rants/rave to above mentioned Ackermann at ernie@webliminal.com
---
This page is hosted by Webliminal.com, a site on one boundary of the Web. Visit and while you're at it take a look at some of Ernie's books about the Web.
Internet Today!
Learning to Use the World Wide Web
Searching & Researching on the Internet & the World Wide Web
---

Page put together (with info & pics from Bob Gramann ) by Ernest Ackermann.
Send rants/rave to above mentioned Ackermann
Last Time I changed anything on this page:
---
| | | | |
| --- | --- | --- | --- |
| You can help support this site by buying books, CDs, and other items after clicking on any of these links. | | | |
Feedback on this Web site