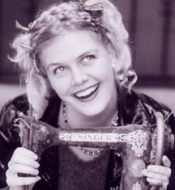 Born in Willoughbye Ohio, singer/songwriter Anna Wolfe grew up in a haunted farmhouse on a secluded horse farm. From a very early age she found strength, emotional expression and recognition from writing and performing music.

She gave her first performance at three, wrote her first song at seven, picked up the guitar at 10, and began to sing professionally at the age of twelve. Senior year of high school, she one a Strnad Creativity Scholarship, which allowed her to record her first album in a professional studio.

In the following years, she has lived in Boston, Cleveland and Albuquerque, fronted five bands, recorded three more independent albums and is currently finishing her fifth record with producer Wendy Waldman. She swept the top three placements, including the grand prize, in the Flatrock Music Festival's Hank Williams Songwriter Competition last summer. Also in the summer of 2003, she performed several times with Trapezoid fronted by well-loved composer Paul Reisler who says, "Anna Wolfe is one of the most gifted young songwriters I've met in many, many years. She has this remarkable ability to weave a story. Anna is a real original with a totally unique voice."

Recently, while attending the Rocky Mountain Song School in Lyons Colorado, Beth Neilsen-Chapman heard Anna play and became a fan and a supporter. She says, "Anna Wolfe's music seems to come from a very pure and supremely original place. In a world of cookie cutters and franchises, her evolving journey as a songwriter should be wonderful to watch."

Anna is presently living in another old farmhouse in the middle of the woods (only this one isn't haunted). She and her husband, Philip, moved to Rappahannock county, Virginia in the fall of 2002. Together as a team, they are working hard to realize Anna's dream of becoming a positive force on the big stage.
---

Page put together (with info & pics from Bob Gramann ) by Ernest Ackermann.
Send rants/rave to above mentioned Ackermann
Last Time I changed anything on this page:
---
| | | | |
| --- | --- | --- | --- |
| You can help support this site by buying books, CDs, and other items after clicking on any of these links. | | | |
Feedback on this Web site