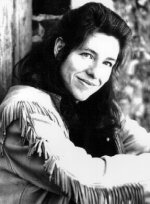 Julia Altstatt has been playing music all her life, in all kinds of bands, usually as a bass player and backing vocalist In San Francisco she played punk, rock'n rll, and c&w, and toured with ex-members of the Grateful Dead. Now on the East coast, Julia has cut the loud music loose in favor of her acoustic guitar and her own songs.
Julia's music reflects her wild past and her more mature present - she loves a driving groove (bass players are like that) but appreciates the texture of silence. Her songs have moved listeners to laugh and to cry, with her wry wit, her forthright delivery, and stories of places she loves.
As a sidewoman, she has over a dozen album credits to her name, and has contributed a fine original track "Long Cold Winter,' to the local compilation "District of Country', under the name Julia and the Honky Tonk Troubadours. Most recently, she has completed a 6-song demo CD "Six Good Tunes" in preparation for a full-length record. Her songwriting is excellent, but it's in live performance where Julia really shines. Now she's ready to leave her electric past behind for a while, and concentrate on her acoustic present.
---

Page put together (with info & pics from Bob Gramann ) by Ernest Ackermann.
Send rants/rave to above mentioned Ackermann
Last Time I changed anything on this page:
---
| | | | |
| --- | --- | --- | --- |
| You can help support this site by buying books, CDs, and other items after clicking on any of these links. | | | |
Feedback on this Web site