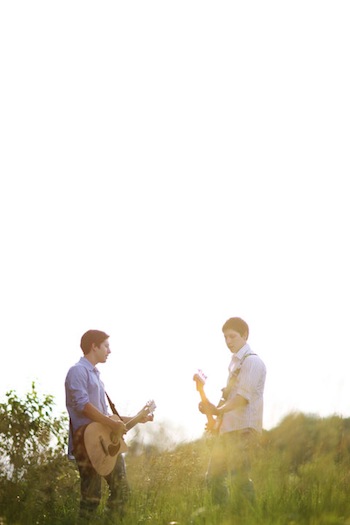 We are Michael and Matthew Polonchak, identical twin singer/songwriters behind "transcendent third", or T3.

We started violin at age five, and picked up guitars by the age of 10. We haven't really looked back since.

We were finalists in the 2005 Mountain Stage Newsong competition and in the "Cream: Best of Philly Rising" competition at World Cafe Live, in Philadelphia, in 2006. Most recently, we were given an honorable mention in 2009 Mid-Atlantic Song Contest. We have toured the East coast several times, and have played countless shows in our home area of Washington, D.C.

We are currently attending different schools in the Baltimore, MD/Washington, D.C. area, but are actively writing, recording, and playing shows. We hope to see you at one of them!
Transcendent Third's music at Amazon


Transcendent Third appeared at the January 2011 Showcase

---

Page put together (with info & pics from Bob Gramann ) by Ernest Ackermann.
Send rants/rave to above mentioned Ackermann
Last Time I changed anything on this page:
---
| | | | |
| --- | --- | --- | --- |
| You can help support this site by buying books, CDs, and other items after clicking on any of these links. | | | |
Feedback on this Web site