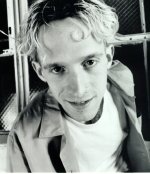 Ever since the day in 1995 when Andy Kuncl first picked up an acoustic guitar, he has written and recorded 22 songs, each revealing some aspect of the human condition, each bearing the soul of human emotion for audiences to hear and to feel. A Chapel ME, NC, native, Kuncl finds himself most at home on the stage. His music is taking audiences by surprise from coast to coast. In addition to his performances in over 20 night spots in the Triangle, Kuncl has performed in more than 15 states. Kuncl combines explosive energy and charisma to produce a blend of alternative folk, funk, and jazz. His percussive guitar playing style combined with barefoot fancy footwork energize and captivate audiences. To quote a fan "you: your guitar, your voice, your body--they are all together one instrument." A 1999 winner of the singer/songwriter's contest at the Skylight Exchange in Chapel Hill, Kuncl is described by Greg Barbera, a Triangle music critic, as "a high energy folkie who unleashes the untamed beast inside of him when he wraps those hands around an acoustic guitar". Barbera says of Kuncl, "He's ambitious as bell and has got the talent to back it up".
A 1998 graduate of Miami University in Oxford, Ohio, Kuncl taught himself to sing and to play guitar while completing his geology degree. His debut, solo album, too quickly, released on his own label Missing String Music, was recorded and mixed in two days, in December, 1997, two years after he picked up a guitar for the first time. His lyrics and music says Keith Weston of WLJNC have "a bit of an edge". John T. McCann of the Herald Sun says, "Kuncl poses real questions about life without falling over himself and sobbing'; and Richard Middleton of the Victory Music Review says Kuncl is "a charismatic young performer whose talents will continue to blossom in the coming years".
In August 1999, at age 23, Kuncl released his second album titled who i am--self produced along with Chris Stamey. The twelve tracks on the album range from "missed opportunities ", a solo acoustic recording, to full production songs such as "play ". Kuncl approached recording each song differently, but wanted to keep some with his guitar and vocal tracks live--just as he did on his first album too quickly. "Fading", on who i am, is one example where Kuncl recorded his performance live, only once, and then added additional vocal, bass, and cello tracks. Unexpected things happen in live performance and in the beginning of this song the guitar amp fell over producing a sound that Kuncl loved and kept--you can hear, if you listen closely, voices saying "the amp fell over".
When asked what he enjoys the most Kuncl's immediate response is, "Performance! Performance is truly what I live for--sharing my experiences on stage. My songs are about me and 'who i am', and it's comforting to open up on stage and find that other people can relate to my music--showing me that although my songs are very personal, they are also universal".
Kuncl's new album, who i am, expresses his passion for life. He exposes feelings in the honest, dynamic style that is his alone. With or without a "missing string", his music exudes energy, and insight. As you experience the raw emotion of his lyrics, who i am becomes as much about you as it is about Andy Kuncl.
---

Page put together (with info & pics from Bob Gramann ) by Ernest Ackermann.
Send rants/rave to above mentioned Ackermann
Last Time I changed anything on this page:
---
| | | | |
| --- | --- | --- | --- |
| You can help support this site by buying books, CDs, and other items after clicking on any of these links. | | | |
Feedback on this Web site