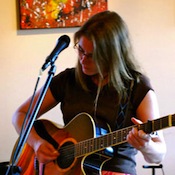 Kirsten Hazler is a Richmond-based songwriter who performs primarily as one of an acoustic duo, Haze and Dacey. The duo is an offshoot of her
erstwhile band, Haze and the Transients, whose members occasionally reunite for a show or an informal jam. When in Athens, Georgia, Kirsten led the band Cycle of Addition, which released the album "Recovery".

Kirsten also runs Naked Songs, a monthly songwriter-focused series in Richmond.

---

Page put together (with info & pics from Tres Seaver) by Ernest Ackermann.
Send rants/rave to above mentioned Ackermann
Last Time I changed anything on this page:
---
| | | | |
| --- | --- | --- | --- |
| You can help support this site by buying books, CDs, and other items after clicking on any of these links. | | | |
Feedback on this Web site