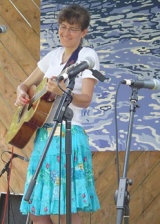 Touring since the eighties, singer-songwriter-parking lot attendant Jamie Anderson has played her warm and witty songs in hundreds of coffeehouses, concert halls, colleges and festivals in four countries and thirty seven states. She has eight albums including her newest, Three Bridges. Her music has been featured on Good Morning America, the Dr. Demento radio show, NPR's Car Talk, and stations all over the world. Jamie loves being a musician, so she doesn't really park cars, but her mama said she should have something to fall back on.
Jamie's a confused folk singer who dabbles in several genres - witness the fun bluegrass romp of "Felon," the bluesy "Her Problem Now," and "Drive All Night," an almost-country number. "Beautiful," is a tender ballad about body image, and "My Dad Loves to Sing," about the musician father who is her greatest inspiration.
"Three Bridges" is a thoughtful tune about finding strength while "Grace" is a story about two girls falling in love at church camp. Hallelujah. Three Bridges, released in 2007, includes two new songs plus her most requested tunes from over twenty years of touring. It features talented musicians Jim Henry (Mary Chapin Carpenter, Burns Sisters), Kevin Barry (Paula Cole), Lisa Koch, Kiya Heartwood (Wishing Chair), Kara Barnard, Richard Gates (Patty Larkin) and many more. From the folky title cut to the sultry "Dark Chocolate" to the definitely-not-a-love-song blues number "Too Busy Being Blue," there's a wide range here.
Jamie's dad was a country musician - a pretty painful thing for a teenager who would rather listen to Carole King and Carly Simon - but it did mean there were always guitars lying around the house. She taught herself to play while in high school and for the next few years played local coffeehouses, bars and at weddings. After the hundredth request for "Wedding Song," she decided to write her own songs. Jamie did her first national tour in 1987 because she needed to earn gas money to get to a music festival. She's been collecting tiny motel soaps ever since. When Jamie isn't touring, she's taught songwriting, guitar and other classes at Duke University, arts centers, privately and at festivals all over the country. She has a chapter in Songwriting and the Guitar, a book that also includes Paul Simon, The Indigo Girls, Joni Mitchell and others. Jamie is a freelance writer whose articles and CD reviews have appeared in Acoustic Guitar, SingOut! and more.
Laughter is a big part of Jamie's live performance. Her offbeat song intros and stories help keep the performance fun but don't be surprised when she delves into more serious issues. She's emceed at many events and twirls the baton badly, sometimes at the same time. She's also a bellydancer and former radio DJ, never at the same time.
Anderson's awards include the Jane Schliessman Award for Outstanding Contributions to Women's Music (Women in the Arts, 2006), Honorary Lifetime Member (Indiegrrl 2006), Best Folk Album (The Independent, A Promise of Light, 2005), Honorable Mention (Great American Song Contest, "Beautiful," 2005), South Florida Folk Festival Finalist (2000 and 2003), Outmusician of the Year (2002), and others that only her mama cares about.
Jamie's expressive voice and personable stage manner are an asset to any stage. She loves to perform but you really don't want to hand her keys to your Volvo unless payment includes chocolate.
---

Page put together (with info & pics from Bob Gramann ) by Ernest Ackermann.
Send rants/rave to above mentioned Ackermann
Last Time I changed anything on this page:
---
| | | | |
| --- | --- | --- | --- |
| You can help support this site by buying books, CDs, and other items after clicking on any of these links. | | | |
Feedback on this Web site