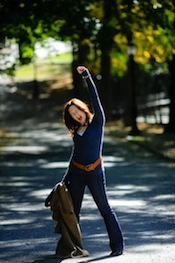 Elaine Romanelli is a compelling mix of soothing and sassy. Her beautiful clear voice beguiles, while her searching, often funny songs will break you open. Her songs tell your story.

Folk/pop with a Celtic lilt, the music is catchy and direct, bringing to mind Alison Krauss and Joni Mitchell. Music blog Lucid Culture hails Elaine as a 'tremendous singer', and raves about 'Real Deal', calling it "vivid, aphoristic, often metaphorically charged". At live shows she gets high marks for her easy banter and high-energy performing.

2011 found Elaine touring across the US, from California to New York, including shows at Folk Alliance International and SXSW. Her album Real Deal is also on tour, being spun on radio stations across the northeast and midwest.
Elaine was raised in suburban Philadelphia, PA, Manhattan, KS, and lived in San Francisco, CA before re-locating to her current home, New York City.

Elaine Romanelli's Music on Amazon
Elain Romanelli appeard at the September 2011 Songwriters' Showcase
---

Page put together (with info & pics from Bob Gramann ) by Ernest Ackermann.
Send rants/rave to above mentioned Ackermann
Last Time I changed anything on this page:
---
| | | | |
| --- | --- | --- | --- |
| You can help support this site by buying books, CDs, and other items after clicking on any of these links. | | | |
Feedback on this Web site