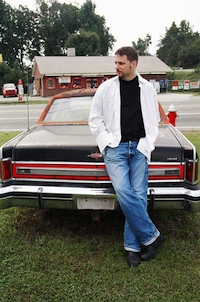 "I was a songwriter. Then I grew up. Got a "real" job. Hated it and regressed. Now I'm a musician again, and proud to say that my music is paying for college. I'm a proud 45-year old sophomore. Life is grand. College is expensive. Please buy a CD or two. Know that a %100 percent share of every CD sold goes straight to Towson University's Bursar's Office so that I can finally grow up and teach YOUR children history. Don't be skeert. Abe Lincoln and I are cool with one another.

Thank you and I love you, and there ain't nothing you can do about it."
David Morreale's music on Amazon


David performed at the March 2011 Showcase.

---

Page put together (with info & pics from Bob Gramann ) by Ernest Ackermann.
Send rants/rave to above mentioned Ackermann
Last Time I changed anything on this page:
---
| | | | |
| --- | --- | --- | --- |
| You can help support this site by buying books, CDs, and other items after clicking on any of these links. | | | |
Feedback on this Web site