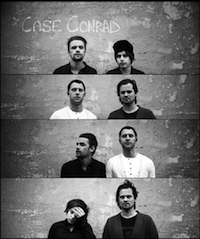 Case Conrad recently recorded 13 songs live in two days, eingineered by John Roger Olsson. The recording session took place at Barnens Ö in a small empty wooden house called Lill-Babs Teater. Lill-Babs is a famous Swedish singer, no one know why the house it's named after her but if you want to know about this classy lady, go here. This debut album Dew Point
will be released in the fall 2010. In October, the band leaves for a 6 month tour through Germany, USA, Canada and Mexico.

Gustav Haggren. vocals / guitar
Lucky Johnson. guitar / keys
Papa Bengtsson. drums / back vox
Gustav Bjarnason. bass / back vox

Gustav Haggren was the founder of Gustav and the Seasick Sailors and released three albums and performed more than 400 shows during 2004-2009.

Robert Lucky Johnson also play in the Swedish group The Tarantula Waltz.

Petter Bengtsson is also the drummer in the Swedish group Shooting John.
Dew Point on Amazon



Case Conrad appeared at the November 2010 Showcase

---

Page put together (with info & pics from Bob Gramann ) by Ernest Ackermann.
Send rants/rave to above mentioned Ackermann
Last Time I changed anything on this page:
---
| | | | |
| --- | --- | --- | --- |
| You can help support this site by buying books, CDs, and other items after clicking on any of these links. | | | |
Feedback on this Web site