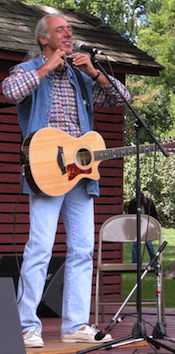 About Antonio Andrade:

"It's taken a little time to get here, but singing and playing my own songs these days is the best it's ever been!"

Singing Dylan songs at parties and a first band in high school ("yeah, we had an electric accordian; the Flying Wedge.") led to dabbling in coffeehouses during his years at Penn State. ("I've been chasing and following my passion for music along with a daytime career for about 30 years now.") Accompanying himself on guitar and harmonica and singing cover songs, mostly in bars, with an occasional festival and/or spot as an opener (including being in line-ups with Grammy winners), kept Tony busy until 1992. He played with Episode, a dance rock/cover band based out of Allentown, PA, from 1992 - 2003.

Resuming solo acoustic work in 1996, along with the band dates, turned into songwriting, and in 2000 the CD of 10 original songs, Tony Andrade, straydog, was released.

As the days with Episode have concluded, so too have the solo dates singing covers in bars. Show sets these days feature tunes from his own catalog. His 2nd CD, Antonio Andrade, What Do You Want From Me, delivers original songs that are marked by the rock/folk/pop influences that removed him from the sandlot and stood him on a stage.

"You know how kids hold thoughts about what they want to be? I wanted to be a baseball player, but when I saw The Beatles on the The Ed Sullivan Show, something happened!"

"The sensation of sharing energy with an audience arouses passion in me. Music has a presence and a life of its own. I am trying to share it, and I am attracted to the possibilities. I am trying to honor my passion".

Antonio Andrade's Music on Amazon


Antonio performed at the April 2010 Showcase.

---

Page put together (with info & pics from Bob Gramann ) by Ernest Ackermann.
Send rants/rave to above mentioned Ackermann
Last Time I changed anything on this page:
---
| | | | |
| --- | --- | --- | --- |
| You can help support this site by buying books, CDs, and other items after clicking on any of these links. | | | |
Feedback on this Web site