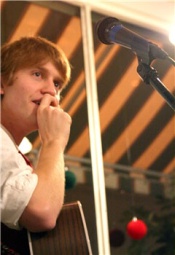 Andrew Rose Gregory writes songs that will break your heart and then put it right back together again. Imagine a young Tom Waits singing the songs of John Prine - heartfelt, hilarious, and moving.
He's been a Writer-in-Residence at Manhattan's Lower Manhattan Cultural Council (http://www.lmcc.net/), just finished a prestigious Residency at Brooklyn's famed Pete's Candy Store, and has taught songwriting to high school students at the internationally attended University of Virginia's Young Writers' Workshop. In the fall of 2007 he went on an 80 day, 50 show tour with his band - The Gregory Brothers - and is now booking for a solo tour for March of 2008 to celebrate the release of his next album, "The Color Red & Other Songs about the Power of Love."
In the last couple years, he's played the best rooms up and down the East Coast and the Midwest: The Knitting Room (NYC), The Rockwood (NYC), Pete's Candy Store (Brooklyn), The Tin Angel (Philly), The Bluebird Cafe (Nashville), Gravity Lounge (Charlottesville), Starr Hill (Charlottesville), 202 Market (Roanoke), The Cave (Chapel Hill NC), Uncommon Ground (Chicago)...and in hundreds of other bars, coffee houses, nooks, and crannies.
He's also played a lot of colleges - Appalachian State University, Swarthmore College, Wesleyan University, Bowdoin College, Messiah College, Oberlin College, Carleton College, and The University of the South.
---

Page put together (with info & pics from Bob Gramann ) by Ernest Ackermann.
Send rants/rave to above mentioned Ackermann
Last Time I changed anything on this page:
---
| | | | |
| --- | --- | --- | --- |
| You can help support this site by buying books, CDs, and other items after clicking on any of these links. | | | |
Feedback on this Web site