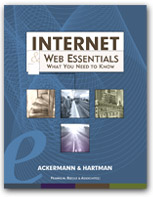 This material has been prepared to accompany the book "Internet and Web Essentials" (ISBN 1887902460) by Ernest Ackermann and Karen Hartman, and published by Franklin, Beedle and Associates, Incorporated, Wilsonville OR, ©2000. No part of this may be reproduced, stored in a retrieval system, or transcribed without permission of the publisher.




Chapter 10—Specialized Databases


Summary | Terms | Exercises | FYIs

Summary
Specialized databases are searchable collections on particular subjects. The U.S. government and nonprofit organizations maintain many of the free, nonproprietary databases on the Web, but commercial databases are also starting to appear with greater frequency.

You can easily find specialized databases by accessing virtual libraries, meta-search tools, or directories such as the InvisibleWeb. Specialized databases are also found in subject guides. These databases are like search engines, in that they support different search features. Most databases have search instruction pages that you should read before you start searching.
Selected Terms Used in This Chapter

Summary | Terms | Exercises | FYIs

Exercises and Projects

Please see the text.

Summary | Terms | Exercises | FYIs

FYIs

Summary | Terms | Exercises| FYIs
---
---

Chapter Capsules | FYIs | Essentials Home Page